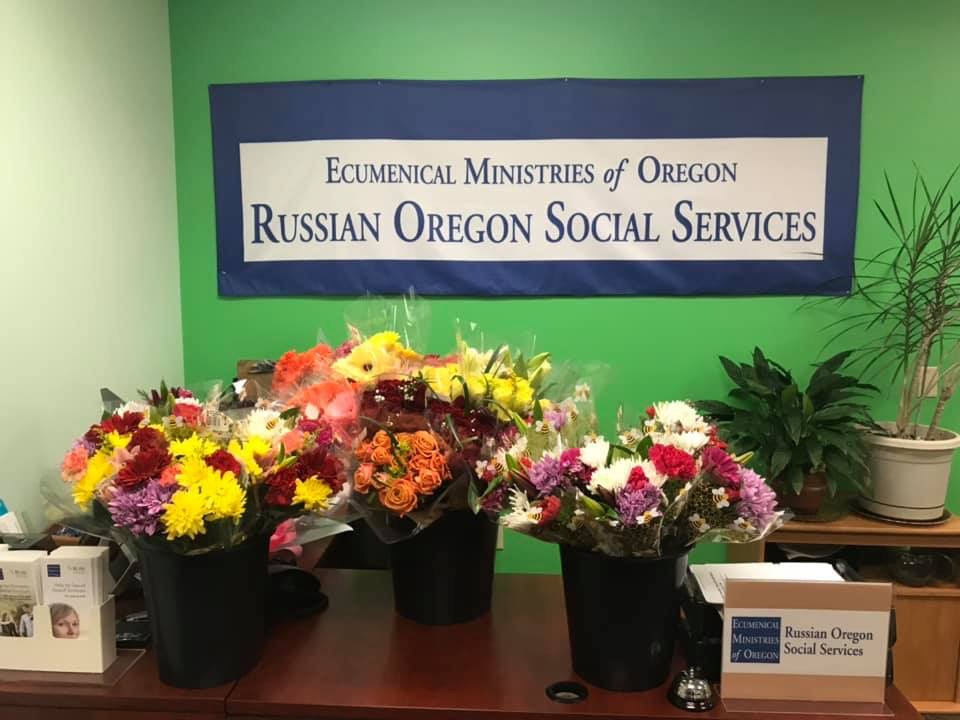 Each month, the Oregon Coalition Against Domestic and Sexual Violence will be featuring a member program. As we continue to sustain and build our movement against domestic and sexual violence, we must choose all of us! We are excited to get to know the membership and the membership's work. By sharing our stories, getting to know each other, and practicing what we represent, we can rise to any occasion stronger together.
---
What is your most memorable story serving survivors of domestic and sexual violence? What was memorable about it? Rewarding, challenging, inspiring?
Olga (real name of survivor substituted) came to ROSS in May 2018. She was homeless for several days. Her 4 kids were taken by DHS and were put into the foster families. She was abused by a powerful American man for several years (Olga's husband has gun retail business). Along with the physical abuse, Olga experienced intense financial abuse as well. Olga had no access to family finances and was given a minimal allowance for food. While the abuser was making over 100K a year, Olga relied on charity for clothing for herself and their four small children. Abuser did not allow Olga to find work. This story came out because her 8 years old daughter shared her domestic situation at school. The process began, the court made a decision to remove her husband from the house. But at the middle of May 2018 policeman came late evening and asked her to leave the house because her husband made a restraining order against her. She spent one night with her kids in the car. As soon as Olga came to us, our advocate started working with her on many issues: safety, housing, employment, mental health counselling, child custody, engaging her in support group meetings. The most difficult was to find safety house for her and her kids. A safe housing situation was the main goal for us because it was the only one way for Olga to reunion with her kids. Our Agency participated in the housing meeting where different Agencies presented their clients to get the spot. And we finally got that spot. It was the first victory in our long way to the housing and at the same time was only the beginning of the long way. Before Olga can move into her new apartment we had to get approval from the landlord first, then approval from the Agency who will pay for her rent. This process was so long. Every day seemed eternity. But we continued to fight. First, we got approval from the landlord, two weeks later Home Forward approved her for the rent assistance. Finally, one month later Olga with her oldest daughter moved to her new apartment. During that time, we hardly worked regarding child custody as well. Olga has several court processes. The woman did not give up and persistently fought for her children. The cooperation between different agencies helped Olga to reunion with her oldest daughter first. Nowadays, Olga is in safe place with her four children and ready to start life again. We still have a lot of issues to work in but the most difficult and important were already resolved.  
What are the biggest barriers you feel like your organization encounters? How do you address these barriers?  
We encounter cultural barriers while working with the Russian speaking population. In the traditional Russian culture, marriage is perceived as the most important thing and couples who get divorce are seen as failures. Usually, women are supposed to be responsible for keeping the relationship going, thus tolerating abuse for the sake of their marriage and children. In the religious setting women who are standing up for themselves can become isolated and judged by the community, because their religious organization protects patriarchal values and supports men as the head of the family. They experience shame and helplessness, because their community turns against them for leaving their husbands. They have to be very courageous or completely desperate to seek help from social workers. In order to address these barriers, we do a lot of outreach by hosting radio shows, writing articles in the Russian speaking media and raising issues of domestic and sexual violence on social media.  
Another barrier is the lack of funding for housing for survivors of DV/SA. Many of our clients are coming from low socio –economic groups and they can't afford renting accommodation on their own. Especially, if they have a few children and do not know English well. We try to secure funds, keep relationships with shelters and help looking for affordable housing.
What are you excited about and proud of with your organization? What are some goals you hope to achieve?  
There is no such an organization in the USA, which would provide DVSA advocacy specifically tailored to the Russian speaking population. We are proud to serve marginalized communities and we see how important our work is, because we help survivors go through the darkest time in their lives and become self-sufficient. We hope to continue our mission, which is to support, protect, prevent and advocate for the less fortunate ones. We wish every single person in Oregon who needs to flee domestic violence would reach out to ROSS in their dark moment in life. 
If your organization was a band, what band would it be and why?  
We would be a band singing songs on different languages from different times. We would be singing songs about empowering immigrants and celebrating life. We want to encourage oppressed populations to stand up for themselves, celebrate diversity and unite against any type of violence and oppression.  
Longest employed staff at your organization 
Oksana Davletshina, Program Manager (2 years)
Favorite comfort food: Russian food
Favorite quote: My parents always taught me:" Whatever you do, you have to do it with all your heart and love!" I follow this rule all my life and teach my children to do the same.
What drives me: Making a difference
Staff pets (If your organization has staff bring pets to the office, we'd like to meet them!)  

Unfortunately, we don't have any pets but we would be happy to have a cat  
Organization contact info: