The Oregon Coalition Against Domestic and Sexual Violence's Annual Conference welcomes 200+ crime victim advocates, social service agency staff members, mental health professionals, social workers, law enforcement officers, and government officials to Sunriver, Oregon for 3 days of workshops, plenary sessions, and networking opportunities. All conference sponsors may leave brochures at our check-in desk. Conference sponsors may also request their own exhibitor table (subject to approval and space availability).
DRAFT sponsor-exhibitor policies (2019)
The OCADSV conference is held in Sunriver Resort's Great Hall Complex and adjacent Homestead building. The number of available sponsor-exhibitor tables and assigned locations are determined by the OCADSV executive director or authorized representative.
Each approved sponsor-exhibitor will be allocated (at minimum):
one (1) table;
one (1) chair; and
access to one (1) 110v AC power outlet.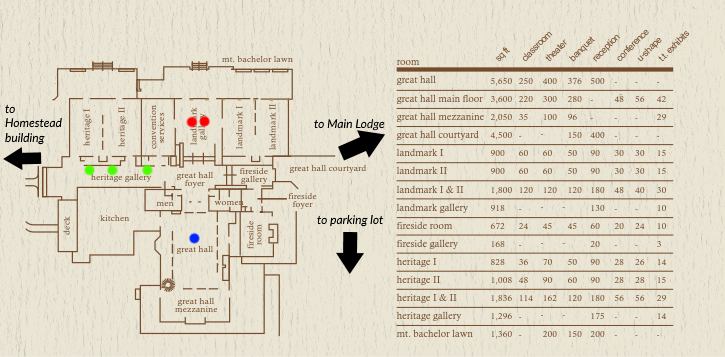 OCADSV has designated the Heritage Gallery (indicated with bright green dots in the floorplan above) for sponsor-exhibitors. Our check-in desk is located in the Landmark Gallery (indicated with red dots), and conference-provided meals and keynote/plenary sessions are located in the Great Hall (indicated with a blue dot). OCADSV reserves the right to relocate sponsor-exhibitors at any time as needed.
Each sponsor-exhibitor is solely responsible for transporting, setting up, taking down, and storing their materials/equipment. We have requested that the conference venue (Sunriver Resort) have the exhibitor tables ready by 4:00pm on Sunday, May 12th, but we cannot guarantee this. We strongly encourage sponsor-exhibitors to have their tables set and ready no later than 7:30am on Monday, May 13th (when attendee check-in begins).
OCADSV shall not be liable in the event of damage, loss, or theft of any sponsor-exhibitor property.
All sponsor-exhibitor materials/equipment/conduct must align with the OCADSV mission, philosophy, and equity and inclusion statements. Additionally, exhibitor materials/equipment/conduct must not obstruct any walking path, disturb or disrupt any conference event, damage any OCADSV or venue property, or interfere with OCADSV-authorized or any other exhibitor's materials/resources/equipment. Exhibitor materials/equipment must not emit any sound during any workshop or keynote/plenary session. If at any time an exhibitor's materials/equipment/conduct is deemed by OCADSV to be in violation of this policy, the OCADSV executive director or authorized representative will request that the sponsor-exhibitor make changes to bring them into compliance. If the exhibitor refuses or is unable, they will be asked to leave the conference venue (any sponsorship funds paid will not be refunded under these circumstances).
Sponsor-exhibitors below the $1,000 level do not receive conference registration fee waivers, and therefore must pay in advance for any conference-provided meals taken ($30 per person per meal, payable at the conference check-in desk). Sponsor-exhibitors at or above the $1,000 level may choose to register exhibitor(s) using their sponsor registration fee waiver(s), which includes access to all conference-provided meals.
OCADSV does not specifically endorse any sponsor-exhibitor or their products or services. OCADSV disclaims all liability incurred from the use of any sponsor-exhibitor's products or services.