Domestic violence
Anyone can experience domestic violence, including men and people of all gender identities.
Trans people, particularly trans women of color, experience harassment, assault, discrimination, and homicide at profoundly higher rates than the general population.[1]
FIND HELP
TAKE ACTION
Domestic violence is a pattern of coercive and/or violent tactics perpetrated by one person against a family member or intimate partner, with the goal of establishing and maintaining power and control over that person.
Domestic violence can happen in all kinds of intimate relationships, including married couples, people who are dating, couples who live together, people with children in common, same-sex or gender-nonconforming partners, people who were formerly in a relationship with the person abusing them, and teen dating relationships.
Information for survivors and victims
Types of domestic violence
Abusive behaviors are not symptoms that someone is angry or out of control. An abuser makes a deliberate choice to exert power and control over their partner.
Pushing/shoving
Slapping
Kicking
Punching
Strangulation
Misuse of objects to strike the victim (belt, umbrella, etc).
Striking objects, the wall, etc. in view of the victim as a threat of violence
Emotional abuse is a tool used by those who want to make their partners feel scared, crazy, worthless, or responsible for the abuse. The abuser's goal is control over the victim. Emotional abuse may include:
Making jokes about the victim
Insults
Criticizing the victim's competence
Ignoring the victim's feelings
Withholding affection as a form of punishment
Blaming the victim for all problems
Yelling at the victim
Humiliating the victim in front of others
Accusing the victim of being the abusive partner
Threatening to take the children away from the victim
Threatening physical violence
Threatening suicide to punish the victim
Sexual abuse is one of the least discussed, but most common, forms of domestic violence. Sexual abuse may include:
Sexual jokes that make the victim uncomfortable
Treating women as sex objects
Criticizing the victim's sexuality
Using sexual jealousy as a tool of control
Uncomfortable or unwanted touch
Withholding sex as punishment
Demanding sex
Flaunting affairs
Rape
Sex after beatings
Sexual torture
Social abuse is used to isolate the victim from others in the community. The fewer people the victim is connected with, the more control the abuser has over the victim. Examples of social abuse include:
Insisting that the couple spend all their time together
Discouraging the victim from seeing friends or family
Forbidding the victim to see friends or family
Monitoring the victim's mail or phone calls
Checking the odometer
Restricting access to the car or car keys
Telling others the victim is crazy or abusive
Abusers often attempt to establish financial control over victims. Victims who are financially dependent on abusers have fewer resources for escape. Financial abuse includes:
Making all financial decisions for the household
Keeping financial secrets
Monitoring the victim's spending
Controlling the victim's access to cash
Refusing to let the victim work
Forcing the victim to turn over income to the abuser
Domestic violence is a PATTERN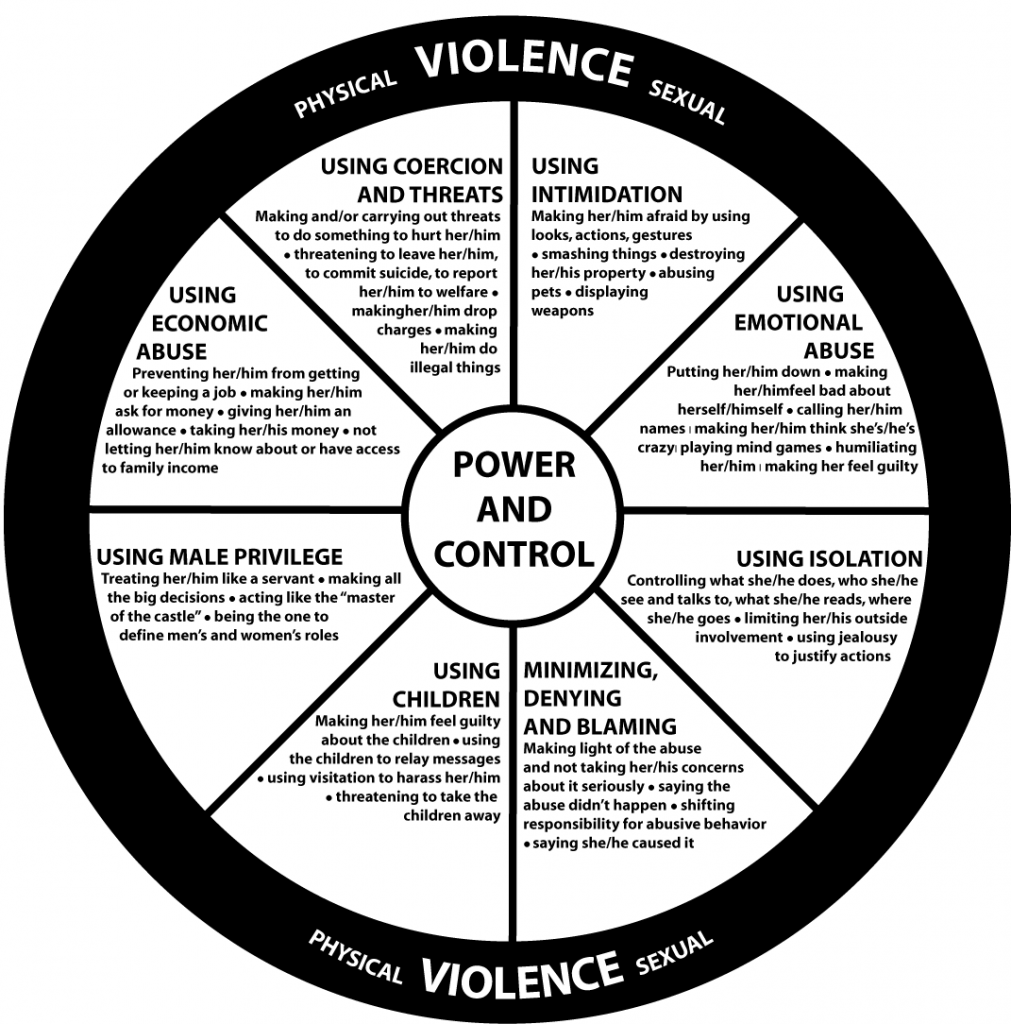 Batterers' intervention programs
In some jurisdictions, convicted domestic violence offenders may be ordered by the court to attend a batters' intervention program (BIP) for a specified amount of time. Batterers' intervention programs attempt to educate abusers about the impact and implications of their behavior, in an attempt to encouraging them to change their behavior.
The success rates of batterers' intervention programs vary widely and are difficult to measure, but the Coalition welcomes these programs, particularly those that work in collaboration with their local advocacy programs, as another component of community coordinated responses to domestic violence.
Note that batterers' intervention programs are NOT comparable to anger management classes or marriage counseling, both of which are unsuitable and potentially dangerous responses to domestic violence. Domestic violence is not caused by uncontrolled anger or interpersonal conflict; domestic violence is both a crime and a choice, specifically the choice by abusers to use methods of physical, emotional, sexual, social and/or financial abuse to wield power and control over their victims.
Statewide standards for batterers' intervention programs are set forth within various Oregon Administrative Rules (OARs), which are maintained and enforced by the Batterer Intervention Program (BIP) Advisory Committee (link is external), a multi-disciplinary leadership body housed within the Oregon Department of Justice - Crime Victims' Services Division.
External links and additional resources
The Family Violence Coordinating Council (FVCC) (link is external) is a multi-agency, a multi-jurisdictional forum for the coordination of domestic violence intervention efforts within Multnomah County
Multnomah County Domestic Violence Coordination Office (link is external) acts as a community resource for the prevention of, and intervention in, domestic violence by providing information, consultation, and technical assistance to community groups who want to address this important issue.
Oregon Department of Justice - Crime Victims' Services Division (link is external) seeks to reduce the impact of crime on victims' lives by supporting statewide victim services programs, promoting victims' rights, and providing victims access to information and resources.
Oregon Law Center (link is external) provides free and low-cost civil legal (NOT criminal) services to eligible Oregon residents.
Oregon Law Help (link is external) is a website providing free Oregon-specific legal reference information.
Partnership for Safety and Justice (PSJ) (link is external) is a Portland-based nonprofit that works with people convicted of crime, survivors of crime, and the families of both to advocate for public safety policy changes and increased social and community support for survivors of crime.
Angel Flight West (link is external) is an organization that ordinarily provides MEDEVAC and Aeromedical Evacuation services to acute-care patients needing air transportation. However, in certain circumstances, they are able to help relocate survivors of domestic violence who are attempting to flee an abuser.
AEquitas - The Prosecutors' Resource on Violence Against Women (link is external)
End Violence Against Women International (EVAWI) (link is external) provides multidisciplinary training and expert consultation regarding crimes of sexual assault and domestic violence.
National Network to End Domestic Violence (NNEDV) (link is external) provides training and assistance to the statewide and territorial coalitions against domestic violence. It also furthers public awareness of domestic violence and changes beliefs that condone intimate partner violence.
National Center on Domestic & Sexual Violence (NCDSV) (link is external) designs, provides, and customizes training and consultation, influences policy, promotes collaboration and enhances diversity with the goal of ending domestic and sexual violence.
National Coalition Against Domestic Violence (NCADV) (link is external) organizes for collective power by advancing transformative work, thinking and leadership of communities and individuals working to end the violence in our lives.
National Resource Center on Domestic Violence (link is external) engages with and learns from, informs and supports systems, organizations, communities, and individuals to strengthen capacity to effectively address domestic violence and intersecting issues.
VAWnet: The National Online Resource Center on Violence Against Women (link is external), a project of the National Resource Center on Domestic Violence (NRCDV), is a comprehensive and easily accessible online collection of full-text, searchable materials and resources on domestic violence, sexual violence and related issues.
Women's Law (link is external), now managed by the National Network to End Domestic Violence (NNEDV), was launched to provide state-specific legal information and resources for survivors of domestic violence.