APRIL IS SEXUAL ASSAULT ACTION MONTH
Dear member programs and community partners,
Our theme this year is "Together, We Create a Violence-Free Oregon- Will You Join Us?".

SAAM is a critical month for community engagement to raise awareness, solicit donations and volunteers, and to deepen Sexual Violence advocacy work in Oregon's anti-violence community by providing an open invitation to get involved.
We are thrilled to have Maryanna Hollomon (@leetlewolf) as our artist this year to articulate this potent message. Within this year's package, community partners will be receiving posters to spread the word about Sexual Assault Action Month. Member programs will also be receiving postcards in addition to posters.
Our theme this month was inspired by the idea that much of the work being done around Oregon to minimize the impact of violence is happening in so many ways, in so many spaces, and at all times, but rarely do we take the time to think or communicate creatively about the ways prevention is happening all around us. How different would Oregon look if we learned from harm reduction practices, if we learned from community elders, if we engaged in deep discussion with our youth who soak up the world without expectation, or otherwise deepen our relationships and connections outside of mainstream ways of doing things.
This is a reminder for us all that we can't eliminate violence alone, it has to be a collective effort. Please join us this month in lifting up voices and educating our communities.
FREE Virtual Events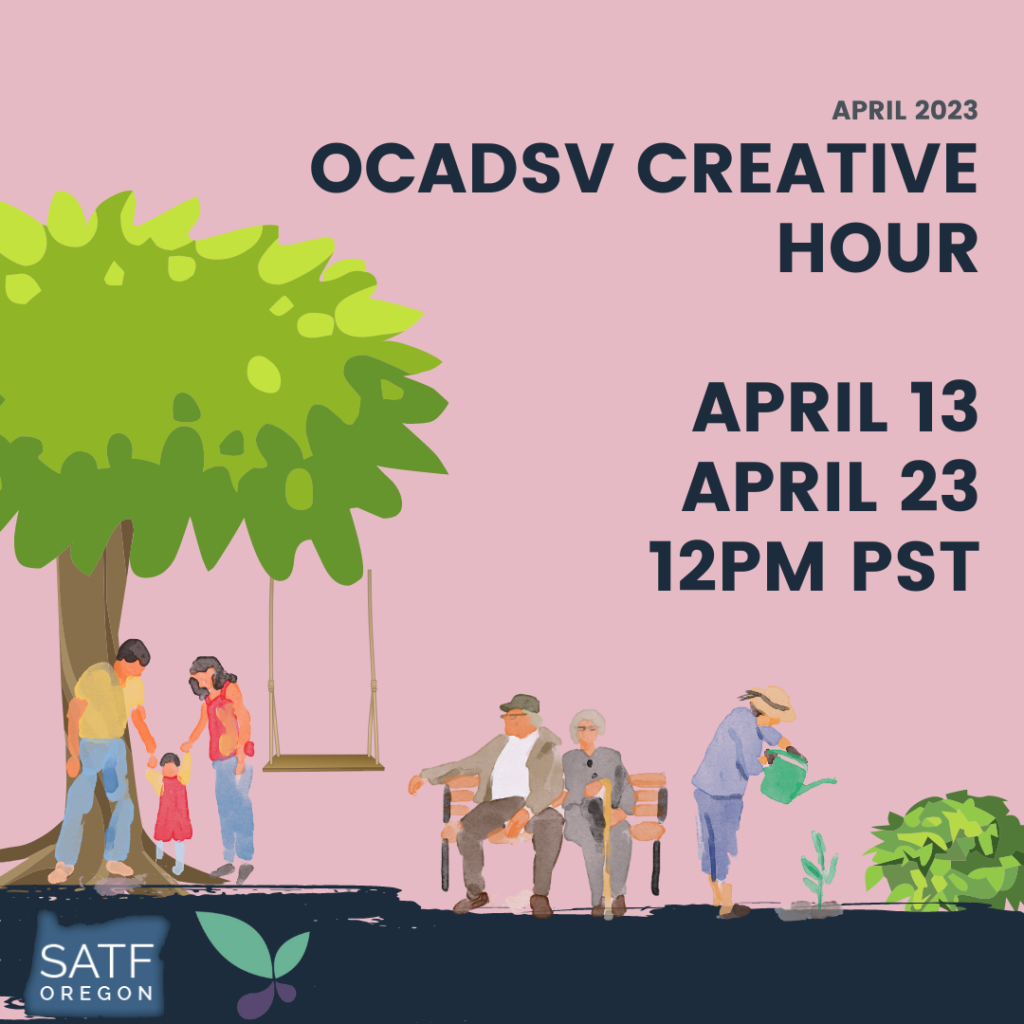 Creative Hours (Co-hosted with Sexual Assault Taskforce Oregon)
Facilitating opportunities for creativity in our communities can help prevent violence and abuse. In honor of Sexual Assault Action Month and Child Abuse Prevention Month 2023, we invite you to join the Oregon Coalition Against Domestic and Sexual Violence (OCADSV) and the Sexual Assault Task Force (SATF) in holding space for creativity as we create together, a violence-free Oregon.
April 13, 12-1 PST
April 26, 12-1 PST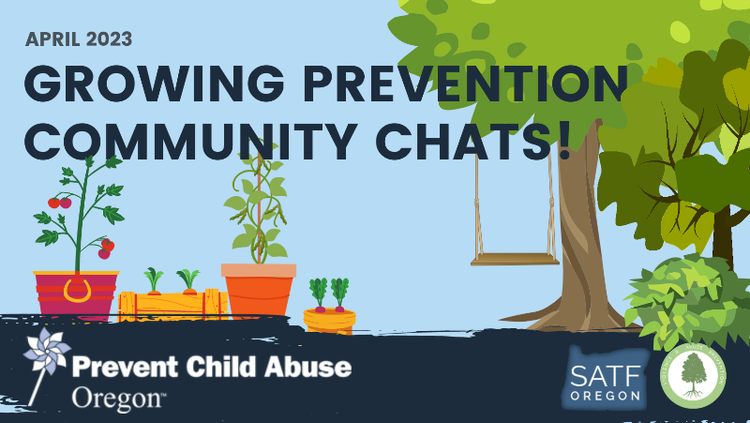 "Growing Prevention" Community Chats
Join Prevent Child Abuse Oregon (PCAO) and SATF for a virtual meal or cup of your favorite beverage, and explore new strategies, opportunities, and community efforts to prevent abuse and violence across the lifespan.
These weekly chats are an opportunity to hear from people doing work that helps prevent violence and abuse, connect with others around Oregon working to make our communities healthier and safer for all people, and collect more resources.
Click below for resources for each session: