Summary
Domestic Violence Action Month; OCADSV Toolkit, and Voting Resources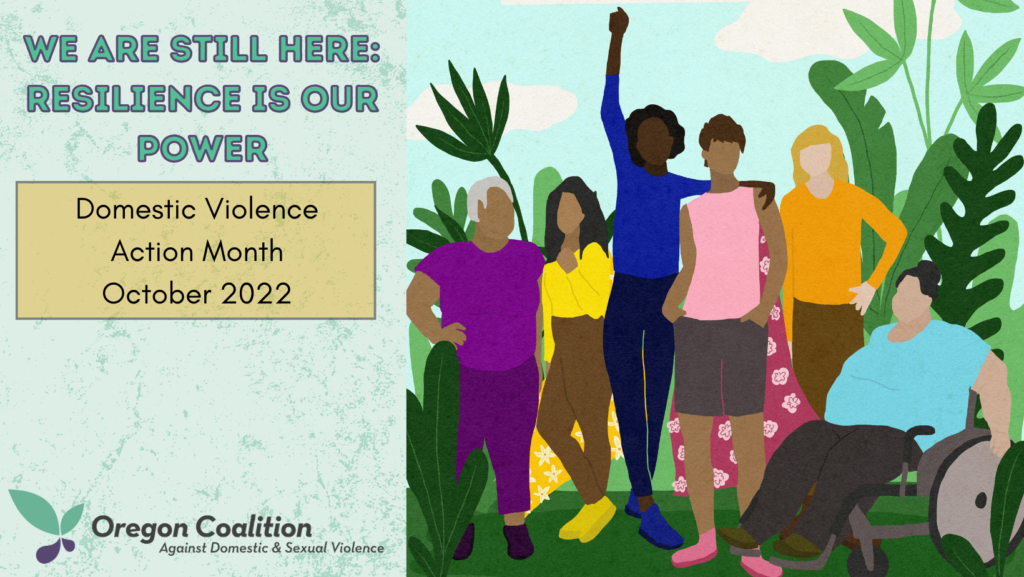 October 1st marks the beginning of Domestic Violence Action Month! Our theme this year is "We are Still Here: Resilience is our Power." We are thrilled to have JoJo Baccam (instagram: @jjbccm) as our artist this year to articulate this potent message.
Since the pandemic, we have seen increased levels of violence both for survivors of domestic violence and BIPOC survivors of state-sanctioned violence. Despite the hardships we have gone through, it is crucial to remind ourselves of the connections and interpersonal relationships within our movement that have become our source of resilience.
Healing IS possible as a path through trauma and from deep societal wounds. When we center those experiencing harm and surround them with belief and love, anything is possible. We cannot discuss domestic violence without acknowledging the inequities that so many survivors face due to these realities, and we challenge ourselves and our state to continue to place the needs of marginalized survivors at the forefront with every decision.
President Joe Biden declared October is Domestic Violence Awareness and Prevention Month.
"While our Nation has made significant progress in addressing domestic violence by responding to the stories and leadership of courageous survivors, as well as through advocacy and legislative action, domestic violence nonetheless remains all too common in America. During National Domestic Violence Awareness and Prevention Month, we continue to shine a light on the causes of this scourge, strengthen the ability of Federal, State, Tribal, territorial, and local officials to take action, and call on all communities to strengthen prevention efforts."
Continue Reading Here
DVAM Social Media Toolkit
OCADSV created this social media toolkit for DVAM to help unify our member programs and broader community around the message that We are Still Here: Resilience is our Power. Please join us this month in lifting up survivor voices by educating our communities through social media!

In this toolkit you will find:
Sample social media posts for Facebook, Instagram, and Twitter
Suggested hashtags
Access to folders of images that our member programs are welcome to use for their own social media (And some blank versions so you can make content that suits your program's needs if you would like!)
Links to other social media toolkits, such as NNEDV's Annual #Every1KnowsSome1 DVAM campaign
Voter Registration Information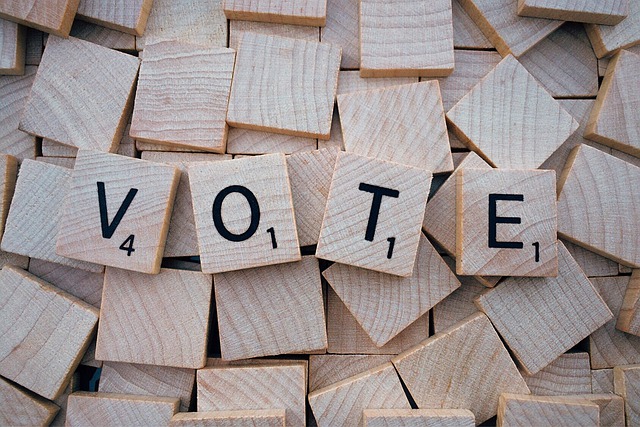 Domestic Violence Action Month is a good time to share education around a survivor's right to vote. Many survivors can be discouraged from voting for countless reasons. Two of the biggest barriers to voting for survivors is
1. Concerns around safety, or
2. Feeling like their voices are unimportant.

Both of these are incredibly valid reasons to abstain from voting, but it is important survivors know their options so they can make an informed decision.
---
Safety Options while Voting
File an Application to Exempt Residence Address from Disclosure as Public Record (Form SEL 550). This form can be accessed and filed through the local County Courthouse Clerk. You must have a non-confidential mailing address to use the SEL 550. The form can also be downloaded under the forms section at www.oregonvotes.org.
Vote by absentee ballot if they are temporarily staying at a shelter or other residence. In this case, they should have the absentee ballot sent to them at their temporary residence, but use their permanent address when filling it out.
Use a non-confidential shelter or group home as their address when registering to vote. They may also use the home of a friend or family member, but only when it is safe to do so and if they are currently living at that home.>
Explore the Attorney General's Address Confidentiality Program (ACP) as another option for protecting personal information when registering to vote.
---
It is incredibly normal to feel like voting won't make an impact, even for people who have never experienced violence. In national elections, especially, this can be enough to deter people from casting their ballots.
Why Voting is Important, National Geographic
"One voter may not directly elect the president. But when that vote is combined with others it can definitely make a difference. This is especially true in a particular voting district and in a close election.
Large numbers of voters usually turn out to elect a president. Far fewer people turn out for local elections. This means that fewer people have a say in who is elected to important offices like mayor or city council."